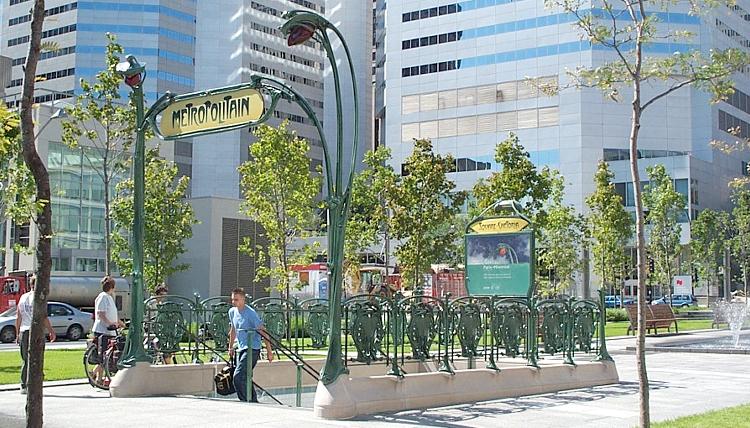 Parisian metro entrance, 1900-1912
Cast iron, polycarbonate
Length 6,1m × height 0,9m × width 3,9m; height of light standards 5,8m
Location: Square-Victoria station, Saint-Antoine entrance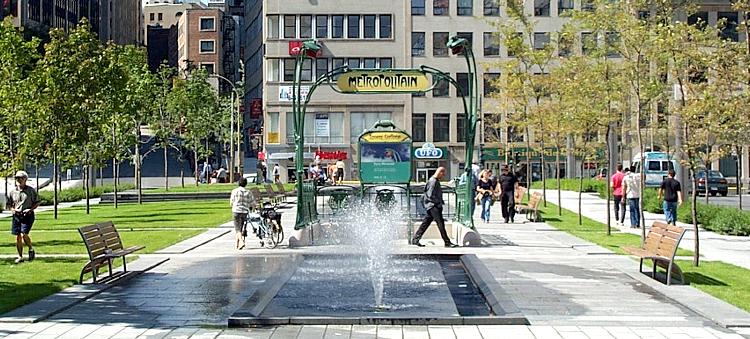 One of the finest pieces of the metro's art collection, this graceful Art Nouveau portico was donated by the RATP, the Parisian transit authority, to the Montreal metro in 1967 to commemorate the RATP's collaboration in designing the metro. Its instantly recognizable green cast iron form, with its shield-shaped medallions, delicately curved sign holders, and "lily-of-the-valley" light standards with orange tear drop-shaped lamps are a centrepiece of square Victoria and the Quartier international.
Montreal's Guimard is the only authentic example of these world-famous works in use on a metro station outside Paris. Since the entrances are modular, it was composed of pieces of demolished Guimards from Paris metro stations. However, the holders for the Métropolitain sign, the neighbourhood map on the entrance's rear, and the light globes are reproductions added during the entrance's complete restoration in 2001-2003.
The entrance is enhanced by authentic white bevelled tiles of the type used in the Paris metro.
For more information on the restoration, click here.
The idea for bringing the Guimard to Montreal stemmed from a fact-finding visit by Mayor Jean Drapeau to Paris while the metro was being planned. He saw the Guimard entrance at Étoile station (now Charles de Gaulle–Étoile) station being demolished and suggested that a Guimard could be brought to Montreal.
| | |
| --- | --- |
| | |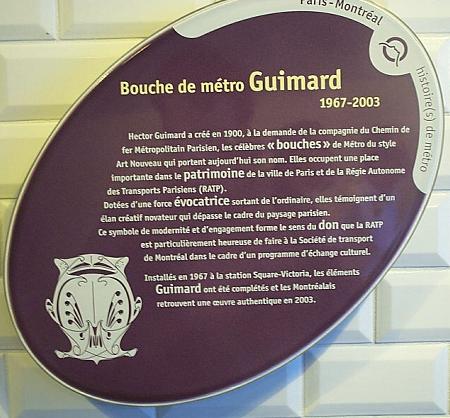 Text of the interpretive plaque

Paris-Montreal
(Hi)stories of the metro

Guimard metro entrance
1967-2003

1n 1900, Hector Guimard created, at the request of the Chemin de fer Métropolitain Parisien (Parisian Metropolitan Railway), the famous Art Nouveau metro "mouths" that bear his name today. They occupy an important place in the architectural heritage of the city of Paris and of the Régie Autonome des Transports Parisiens (RATP).

Their extraordinary evocative force bears witness to an innovative flash of creativity that jumps out of the Parisian built landscape.

This symbol of modernity and creative engagement is a gift that the RATP is particularly happy to give the Société de transport de Montréal as part of a cultural exchange program.

Installed in 1967 at Square-Victoria station, the elements of the Guimard entrance were completed in 2003, leaving Montrealers with a full and authentic work.