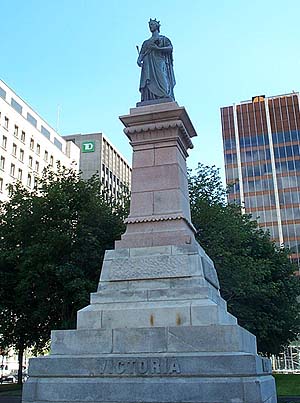 Square Victoria. This square was formerly known as place du Marché-à-Foin and place des Commissaires. It was renamed after Queen Victoria (1819-1901), Queen of the United Kingdom of Great Britain and Ireland 1837-1901 and Empress of India 1876-1901, on the occasion of the Prince of Wales' visit to Montreal in 1860.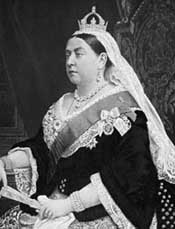 The square was redesigned as part of the Quartier International development project (see below). This project included the recreation of the square's original road grid, the planting of more trees on either section of the park, the installation of fountains and new lamps and furniture, the refurbishment of the Saint-Antoine and Saint-Jacques exits of the metro station, and the restoration of the statue of Queen Victoria to its pedestal, which was also moved. (The statue had been vandalized, and was removed for restoration in 2000 by the same company that restored the Guimard entrance.)
Sometimes erroneously called: Victoria, Place-Victoria (the nameplate over the doors at the Saint-Jacques exit shows this name by mistake).