| | |
| --- | --- |
| ARCHITECTS | |

Jean Dumontier; Crevier, Lemieux, Mercier et Caron

| | |
| --- | --- |
| ARTISTS | |

| | |
| --- | --- |
| OPENING DATE | |
Although plain, this station makes good use of colour on its platforms. The straw-yellow brick sets off the black pillars, purple ceiling louvres and bulkhead walls, and orange highlights. This colour scheme was added during the Réno-Métro program, not without some controversy.
The station, built cut-and-cover, has a two-story volume for the whole of its length, which gives it a spacious feel. The mezzanine overlooks the platforms at either end.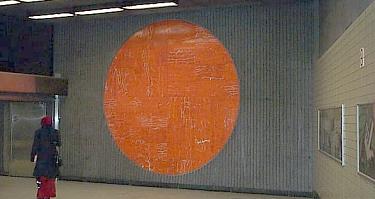 The two entrances, on either side of rue Berri, are integrated into the ground floor of buildings, whose construction brought new artworks by Mario Merola to the station. The western entrance, integrated into the ITHQ building, is decorated with a discreet mural of brown bricks. The arrangement, entitled Rivières, also runs outside the building and into the ITHQ.
By the same artist is a large orange tiled circle, entitled Horizons, by the passage to the station's eastern entrance in the Place du Cercle tower. That entrance includes a poorly signed and maintained corridor linking it to a nearby hotel.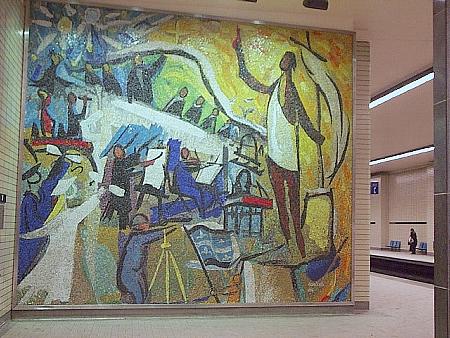 The station's first and primary artwork, though, is a large mosaic, the only one in the metro, on one wall at platform level. It commemorates the St-Jean-Baptiste Society, whose headquarters are nearby. By Vau and Bastien, it recalls the society, symbolized by its patron saint, and its contributions to the academic and cultural life of Quebec.