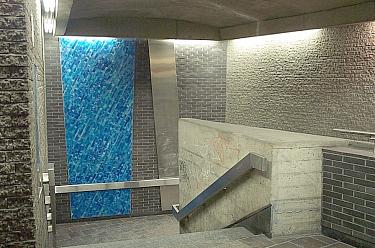 The central volume is a curious irregular shape, as is the bridge over the rails. The latter has a large triangular waiting area at one end, and leads to staircases jutting out at odd angles and turning corners. The bridge and staircases offer a variety of viewpoints upon the striking architecture.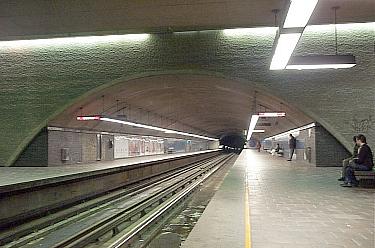 The unusual nature of the shapes at the platform level is reinforced on the eastern wall of the central volume, where the curve of the tunnel vault is continued down to the floor.
The central volume is also decorated with several large blue trapezoidal forms, as well as the tiled circles sprinkled throughout the station.
However, the main attraction is a large concrete sculpture entitled Un Arbre dans le parc, which rises from the platform two stories to tower over the bridge. This modern work is both decorative and functional, as each "branch" contains a light fixture.