This station is built in an eye-catching futurist design. The rough concrete carved into irregular angular forms, and the hemispherical light-fixtures dotting the walls in odd patterns give the mezzanine's large volume a space-age, almost surreal feeling.
The platforms, built in tunnel, carry on the incongruous, angular lines of the mezzanine in the concrete panels that decorate them. A feeling of rhythm is added by yellow circles within each panel along the length of the platform.

This feeling is continued all the way to the striking kiosk, with its triangular glass and concrete forms rising out of the landscape like a crystal formation. Inside, the sharp angles and forms repeat the style in the rest of the station.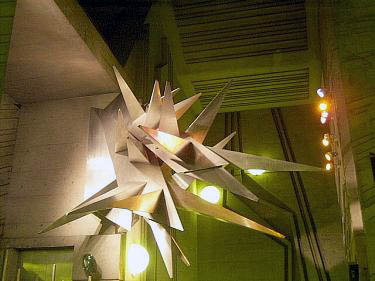 From the windows in the kiosk, a lighting shaft extends several stories down to the mezzanine, where a spiky abstract sculpture in stainless steel juts out of the wall. This work by Maurice Lemieux, entitled Calcite, reflects sunlight - and at night, artificial light from coloured lamps - out into the mezzanine.
This station's unique design should put it high on the list of stations to see.