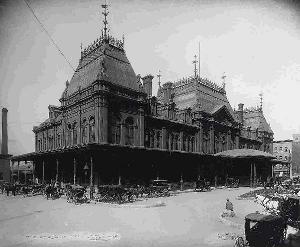 Former Gare Bonaventure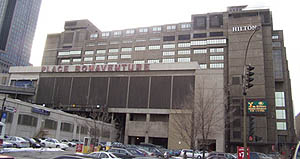 Place Bonaventure

Place Bonaventure. Giovanni di Fidanza (1221-1274) was a Franciscan monk, theologian, philosopher, and mystic, who was canonized as Saint Bonaventure.

Rue Saint-Bonaventure or Bonaventure Street originally designated the length of today's rue Saint-Jacques between rue McGill and place Saint-Henri. A short street named Rue Bonaventure, formerly an alley running parallel to the original one, may still be found between rue Lusignan and rue Lucien-L'Allier.

The old rue Saint-Bonaventure gave its name to Bonaventure Station, which was situated at Saint-Bonaventure and Windsor (now Saint-Jacques and Peel) and operated by the Grand Trunk Railway. The station was for decades a major hub for the transport of goods and passengers.

The memory of this station gave its name in turn to the Place Bonaventure complex, whose construction caused the original metro plans to be extended and a station to be situated underneath it. So from the street to the train station to the complex to the metro station, St. Bonaventure's name was perpetuated to the present day.

Name during planning phase: Windsor.