| | |
| --- | --- |
| ARCHITECT | |

| | |
| --- | --- |
| OPENING DATE | |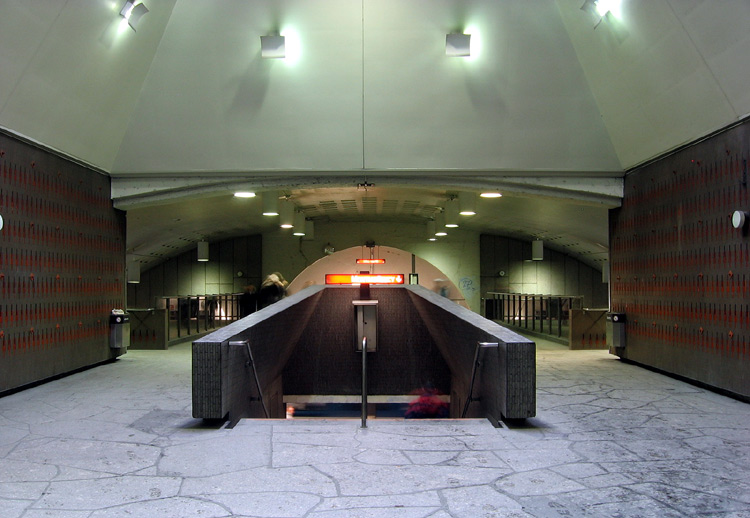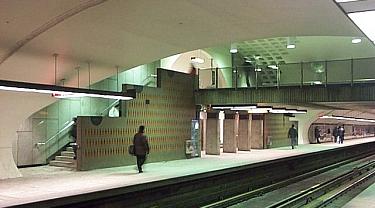 A pleasant example of retro architecture, this station is mostly made up of curved lines. In particular, the transept volume tends to an oval shape, rather than the usual rectangle-with-curved-top plan typical to stations built in tunnel.

Where the platform caverns intersect with the transept, the shape is emphasized as an elliptical tunnel clad with flat false walls. However, even within the flat-walled sections, the stainless-steel benches take up the curvature of the central volume again.

The central portion of the station is mainly in pale concrete, with walls in grey tile with a brown and orange dart pattern. The cavern sections are clad in grey granite, and the station's floor is done in attractive, irregularly-shaped stone.

One striking feature at the bridge level are two stairwell mouths permitting access in the middle of the path. The farther one, seen here, leads to the Côte-Vertu platform and takes the shape of a shallow, amphitheatre-shaped bay. The staircase to the Montmorency platform, seen at the top of the page, takes the shape of a sort of open trapezoid opening in the middle of the corridor.

In addition to these central stairwells, both platforms can be reached by stairs on either side of the bridge.

The trainroom is joined to the single entrance building by a single central stairwell lit by a clerestory skylight overhead, set in the sloped roof.

As for the entrance pavilion itself, it is an unusually-shaped elongated concrete structure, separated from the main street behind a tall apartment building. Its roof rises in a wing containing clerestory windows. A sheltering marquee runs down its length along the bus loop and around to the front of the apartment block. Behind it, a huge, twisted inverted pyramid caps off a light shaft.