This is a really good-looking station in between two complete turkeys. For one thing, it includes one guaranteed winner - sunlight. A large kiosk, entirely windowed, lets sunlight flood through the great volume down to platform level.

The station is no less attractive on the platform level, even under the shadowed areas in tunnel and under the mezzanine level. In the latter, wall panels in vivid rainbow colours liven up the darker area. Resolutely modern light fixtures, whose bright red-orange metal shades repeat the similar materials on the skylights up above, provide a more practical form of illumination.

In the tunnel section of the platforms, pre-fabricated, rounded square concrete wall units with integrated seating offer a unity of modern, practical design the length of the wall.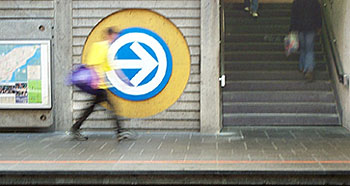 An amusing architectural feature, and one that unifies each level of the station, is the use of these large plastic metro symbols. They are used both for decoration and as directional guides, pointing out the directions to and from the platforms.
The only real problem is the awful styling of the entrance pavilions, especially the main one on the south side of rue Hochelaga, which sprawls out in Raymond-Préfontaine Park looking for all the world like a giant yellow tractor tread or caterpillar or something of that sort. The glazed roofs also have a tendency to leak. But even there, the attractive concrete decor inside the entrances partially makes up for them. The entrances aside, this station is a modern and exciting space through which to travel.