| | |
| --- | --- |
| ARCHITECTS | |

| | |
| --- | --- |
| ARTISTS | |

| | |
| --- | --- |
| INAUGURATED | |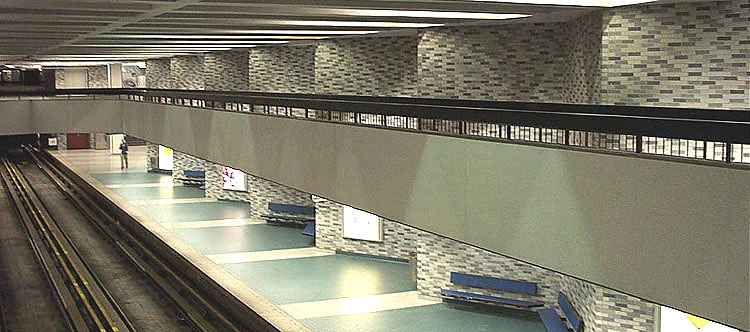 This handsome station was built in a large open volume underneath the Place des Arts cultural complex. The platform walls are very attractive. They form an eye-catching zigzag layout and are covered in light-blue bricks of alternating colours (in a pattern similar to one of the architects' other stations, Atwater). The walkways above the platforms seem to float, being supported by discreet hangers at the point of each zigzag. The light colour and stylish architecture let passengers forget that they are underground, and give a feeling of sophistication in keeping with the cultural complex above.
Like its busier neighbour McGill, the station has two mezzanines, one at either end, joined by the two previously mentioned walkways above the platforms. The western mezzanine is smaller, really only a corridor, and gives access to the two De Bleury exits.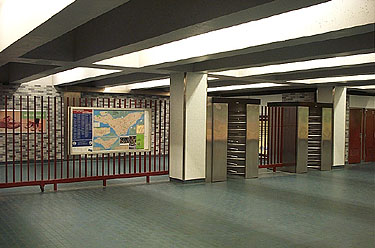 The larger eastern mezzanine gives access to the UQAM and Jeanne-Mance exits and to the Underground City access to Place des Arts. In addition to the turnstiles, this mezzanine can also be reached from the platforms by way of two one-way exits, consisting of door-sized turnstiles.
On the eastern wall of this mezzanine is the station's main work of art, a beautiful painted glass and iron mural by Frédéric Back. Entitled Les Arts lyriques, it traces the development of music in Montreal from the first concert given on the island in 1535 all the way to the jazz and popular music of the 1960s. It also depicts several of Montreal's most important musicians, such as Calixa Lavallée and Dame Emma Albani.
The work, sponsored by the defunct Steinberg's supermarket chain, was the first work of art to be installed in the metro after its construction.