| | |
| --- | --- |
| ARCHITECTS | |

Original station:
Bolduc et Venne

New kiosk (Réno-Métro 1999):
Mario Bibeau

| | |
| --- | --- |
| ARTISTS | |

| | |
| --- | --- |
| INAUGURATED | |

At platform level, one's first impression of this station is another initial-system station with mediocre styling and decoration. This strangely-coloured, 1960s-vintage tile pattern, mostly split-pea tan mixed with a variety of tertiary colours, continues all the way along the platforms in the mined trainroom and up the considerable length of the escalator to the street-level ticket hall.
The station is saved from being boring by two things. The first is the wonderful and symbolic mural commemorating the great uprising of 1837. The central panel of the mural commemorates Louis-Joseph Papineau, leader of the uprising in Lower Canada (now Quebec), and occupies the wall at the end of the bridge leading to the Angrignon platform. The other two murals, on the walls between the tunnel vault and the ceiling on either side of the bridge, make up a timeline of the rebellion's events.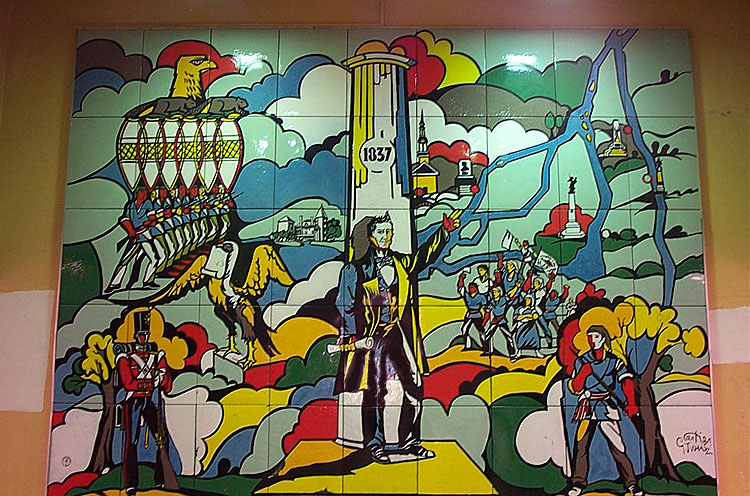 The murals, executed by Jean Cartier according to a cartoon by George Juhasz, are entitled Les Patriotes de 1837-38. They are the system's primary exemplar of the policy of historical, didactic art espoused by the metro's first art director, Robert LaPalme.

The station is also enhanced by its new post-modern entrance building, in concrete, steel, glass, and blue tiles on the inside, and by the park that surrounds it - a former parking lot that was reclaimed, planted, and decorated with a sculpture.