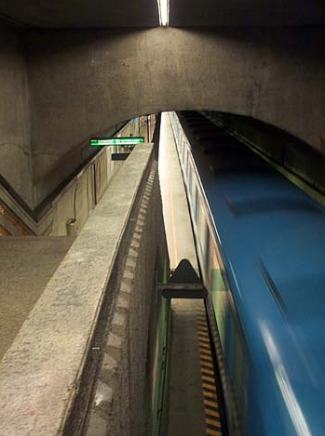 | | |
| --- | --- |
| ARCHITECTS | |
| | |
| --- | --- |
| ARTIST | |
| | |
| --- | --- |
| INAUGURATED | |

The construction of this station was marred with unexpected difficulty. On 20 March 1974, the construction site caved in due to the presence of soft Utica shale in the surrounding rocks. As at Charlevoix, built in a similar rock formation, the station's plan had to be modified. The tracks were placed one on top of each other, and the accesses were narrowed and folded in on themselves.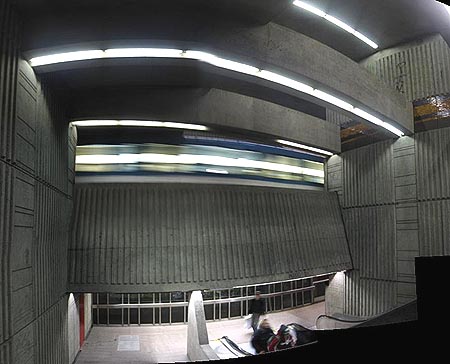 The unfortunate result was a confusing and labyrinthine station, full of complex twists and turns. Since the platforms are not visible from one another, it is impossible for travellers to tell whether the noise of an oncoming train is in their direction or the other.

Moreover, both platforms are built in such a way that the platform is to the left of an incoming train, not the right as usual, in order to allow access to the two station entrances on either side of the tunnel. This is an inconvenience for arriving passengers. All the other stations with tracks one on top of the other have only one of the platforms to the left of the train.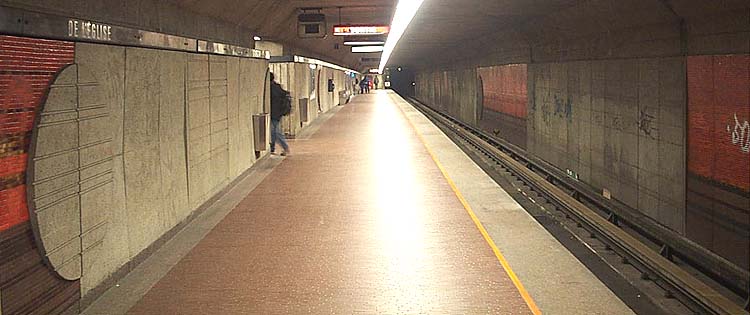 In addition, unlike any other station, the staircases to the platforms are separated from the equivalent escalators. The stairwells are narrow, steep, twisty, and claustrophobic, presenting an intimidating and alarming aspect. They are also subject to human traffic jams during rush hours.
The decoration of the station is not without its positive aspects. In addition to the ceramic glazed tiled stripes and circle motifs in brown and red tones, the bas-relief angular geometric friezes complement the all-concrete architecture of the kiosks and mezzanines.
The architecture of the upper levels themselves is interesting. The kiosks are quite attractive post-modern structures, with their oblique angles and lines and the offset concrete screens and clerestory windows.

However, nor are these areas without their problems, such as low ceilings over the stairwells, which had to be cut with concrete saws to avoid head injuries; and they do not make up for the distressing architecture at the mezzanine and platform levels. Though it's true that the architects' task was difficult, given the conditions and unexpected developments, nevertheless the result is what it is.

Image xsection.jpg from a booklet (no title) on the 1978 green line expansion. BTM, September 1978.