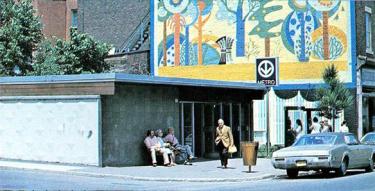 For more than thirty years this station suffered in lackluster silence. All the walls were tricked out in this bland cream-and-brown pattern, and the station was topped by a tiny structure that was originally meant to be only temporary. Finally, however, with the Réno-Métro program in 1999-2000, the station got the makeover it needed. Although the platforms are still as bland as ever, the rest of the station was greatly improved and updated.
The walls in the entrance building, ticket hall, passage to the platforms, and transept area were updated in this stylish light slate blue and stainless steel scheme, much more modern and pleasing to the eye.
The most notable update to the station, however, is the stunning new post-modern entrance pavilion, with its curved, stepped windowframes and protrusions through the roof. The steel-and-glass construction is similar to its neighbours Berri-UQAM, Papineau, and Frontenac, but it is set apart by the rainbow-coloured pillars above the door.
The rainbow, a symbol of gay and lesbian pride, is here used in homage to the gay village, the largest in North America, in which the station stands. This makes the kiosk revolutionary and one of a kind, as a government building whose design clearly acknowledges its presence in the gay community.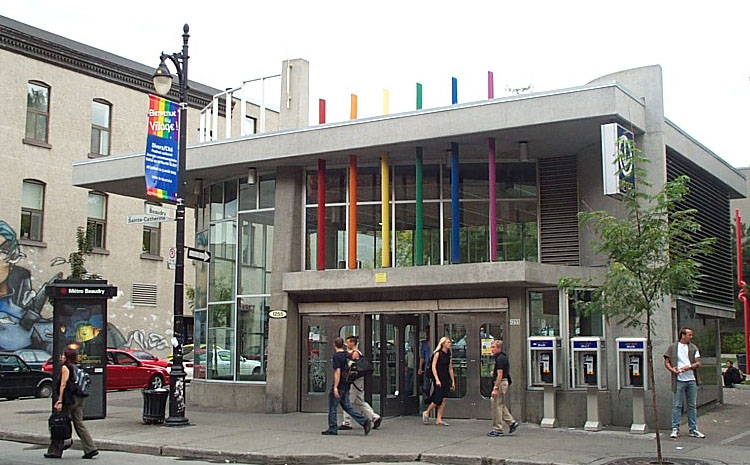 Another distinctive feature is this moving sidewalk, the only one in the metro network, which bridges the block-long distance between the kiosk and platforms.