| | |
| --- | --- |
| ARCHITECTS | |

Blouin, Blouin & Associés

Gare Jean-Talon:
Colin M. Drewitt

| | |
| --- | --- |
| ARTISTS | |

| | |
| --- | --- |
| INAUGURATED | |

The platform level of this eclectic station is of an innovative modern design. The most noticeable decorative feature is the brightly coloured triangle-ridged frieze across the whole length of the platform and up into the mezzanine. The various sides of the frieze ridges are done in different colours and patterns of swirling lines, in such a way that the a passenger passing on foot or by train sees a continually shifting field of colour and scheme. The frieze is by Huguette Desjardins.
A section of the frieze seen from different angles
The large mezzanine sits under an arcade of wide-spanning arches set with fluorescent lights. It looks down over the platform through a concrete rampart pierced with large circles. The ridge patterns continue up into the mezzanine, visually linked by high walls from the platform to the upper level beside the staircases.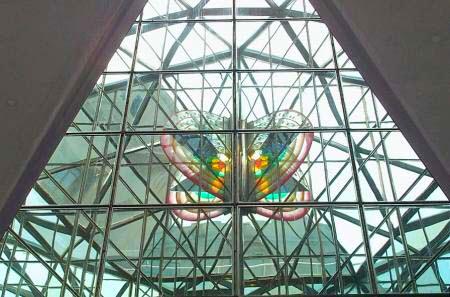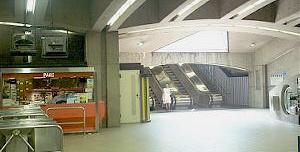 At the foot of the stairs to the exit, a skylight washes the mezzanine with sunlight. Inside the light shaft, a brightly coloured acrylic sculpture is infinitely reflected on the mirrored walls. This beautiful work by Claire Sarrasin is entitled Métamorphose d'Icare ("The Metamorphosis of Icarus"), in homage to the Greek community of the area.