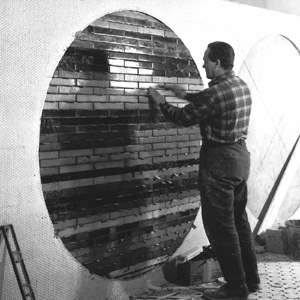 Born: 1 January 1927, in Montreal
Died: February 7, 1991
Jean-Paul Mousseau grew up in the Centre-Sud area of Montreal. Studying at the Collège Notre-Dame, he quickly aligned himself with the nascent Automatistes art movement and became a student of Paul-Émile Borduas. He swiftly rose to importance with a series of exhibitions in Quebec, elsewhere in Canada, and Europe, and especially as one of the 16 signataries of the manifesto "Refus global."
In the 1950s and 1960s he explored media other than paint, collaborating with Claude Vermette in ceramics and integration of art with architecture, and then later with resins and lighting elements.
Along with the other Automatistes, he clashed with art director Robert La Palme over the metro's art policy; while La Palme insisted on representational, didactic works sponsored and installed after the stations were complete, Mousseau and the other Autonomistes favoured works integrated with the architecture, including non-representational pieces. Abstraction and architectural integration would win the day when Mousseau succeeded La Palme as art director in 1972 until the mid-80s, influencing the artistic programme of all the extensions of the metro.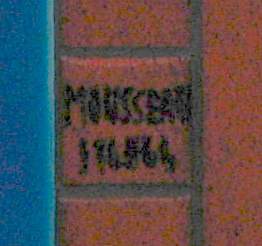 Works:
External Links:

Les artistes du métro de Montréal - Les grands disparus (3) (Info STM, Métro, 18 March 2003, p. 11). In French, .pdf format
Hydro-Québec - Biography of Jean-Paul Mousseau
Jean-Paul Mousseau — Wikipedia